Haft-day Winery tour from Zaragoza
Discover the Cariñena Wine Region
Widen your perspective of Zaragoza on this half-day tour to Cariñena. Visit two working wineries deep in the Aragon countryside and learn more about the region's wine-making traditions. Round-trip transfer from your accommodation ensures a hassle-free trip so you can sit back and enjoy complimentary samples of wine, plus the undivided attention of your private guide throughout your journey. Widen your perspective of Zaragoza on this half-day tour to Cariñena Visit two traditional working wineries in just one trip Sample the region's famous wines. Enjoy the personalized service of a private tour with round-trip transfer
More about the tour
Cariñena is a Spanish Denominación de Origen Protegida (DOP) for wines located in Cariñena in the province of Zaragoza (Aragón, Spain). It is among the oldest protected growing areas in Europe, the DO having been created in 1932 alongside other Spanish wine regions.The region is the acknowledged source of the Cariñena / Carignan grape, which is also grown in France, Italy, California, and several other New World regions. The grape is still widely grown in Cariñena, and its official Spanish name is now Mazuelo.
Private transportation
Local Snacks
Guided tour of two wineries of D.O. Cariñena
Pick up at accommodation in Zaragoza.
Drive to the countryside of Cariñena.
Visit a two winery in the Denomination of Origin of Cariñena.
Drive back to the city of Zaragoza.
End of tour. Your guide will be happy to recommend activities for the remainder of your stay.
1 person
225 Euros per person
2-4 people
135 Euros per person
5-8 people
125 Euros per person
Manager and head guide at Rutica 41, Jorge is a passionate foodie and adventurous traveler. After leaving his native Zaragoza, he spent two years working and studying in Oxford, Brighton and Lincoln, followed by 5 years in Munich, Germany. Between 2016-2017, he completed a Masters Degree in Culinary Tourism at the Basque Culinary Center in San Sebastian. Jorge enjoys teaching travelers about the history, culture and foodie spots of Zaragoza and its surroundings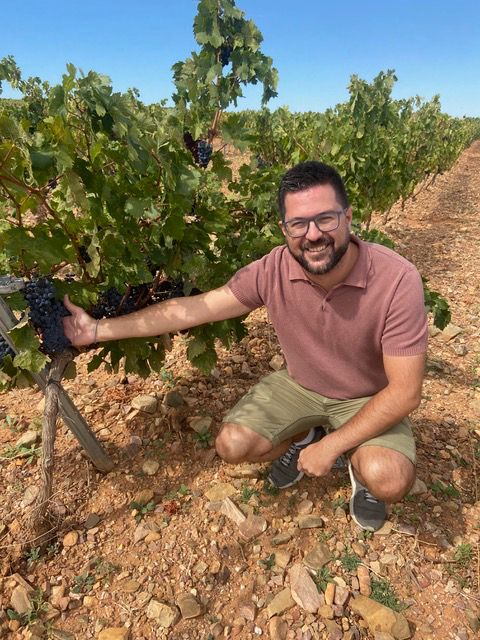 Manager and head guide at Rutica 41, Jorge is a passionate foodie and adventurous traveler. After leaving his native Zaragoza, he spent two years working and studying in Oxford, Brighton and Lincoln, followed by 5 years in Munich, Germany. Between 2016-2017, he completed a Masters Degree in Culinary Tourism at the Basque Culinary Center in San Sebastian. Jorge enjoys teaching travelers about the history, culture and foodie spots of Zaragoza and its surroundings